Stitching Blogger's Question of the Week
September 27
Would you or have you designed your own cross stitch design? If you have can we see it?
Yes, I actually did. It's a wintery picture/ornie: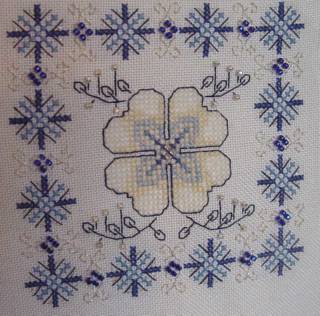 Snowflower - my first design.
There were even a couple of people who asked for the chart, it was really nice. If you want a copy, please, let me know and I will be happy to send you.
My next design is going to be an underwater sampler. I already have a vague idea how it is going to look like, but I haven't started yet. Most probabely I won't in the next time, as I would like to stitch Catch the Wind and Christmas Heirloom Sampler for the exhibition in the Textile Museum in Lodz first. Then I am going to take some time and work on it. I would like to use some DMC and some Vikki Clayton silks in it, and maybe even a bit of ribbon. Designing makes so much fun!
October 04
Thread organization: plastic bobbins, yes or no? How do you organize your threads?
My threads are mainly in Floss Away bags. I am not oatient enough to wind them on bobbins, I have tried and hated doing it, so decided: why bother? My project threads are on project cards (mainly, some are just in bags). I like how neatly bobbin boxes look like and how little space they take, but I can't even imagine rewinding so many skins. So I guess I will stick to my lazy method, as long as it contunues working for me.