State of Stitching
I think I'm already emerging from my whining phase for good. Things are as they are, and I think it's time to go back to blogging about more positive things.
So here's my Chatelaine Watergarden WIP. I haven't actually stitched on it almost at all in April, but got some nice progress in March and wanted to show you. Aren't the colours just wonderful?
I don't know what I am going to stitch on in May, I don't want to make any definite plans, as it's been very difficult to stick to any recently, but I most probabely won't touch it this month. I have the new Martina's freebie almost kitted up and I'm going to start it soon (there's a SAL for the freebie this month).
Underneath are my two most recent finishes. Venice Palace got done in March and Tempest blue-green conversion (by Maria - Bragnane) in April.
I guess I don't need to write much about Michael Powell's art, because it's so colourful and so much fun to stitch. I have some other pieces by him waiting to get started. I think Spanish Hill Town is going to be next. I also felt deeply in love with his new release - Handmade Houses. Sooner or later, I'm going to give it a go.
Tempest has been a blast as well. I have never suspected that a TW with all those fractionals and blends can be so much fun. Now I just need to decide which TW piece I am going to start next. English Garden Sampler, Above the Clouds or Byzantine Ornaments. I have all three kitted up (I found a piece of fabric big enough for EGS fortunately) and I would love to start all three at once LOL.
My rotation has been blown up anyway, so I see no reason not to start something if I feel like. I usually do not enjoy having too many WIPs at a time, but I will worry about it later on, at the moment: allowed is what makes fun :)
I find I've had a nice number of finishes this year anyway and even if I don't finish anything at all any more, it would still be OK. Of course I would like to have a couple more and surely I will have, but I won't stress overly over it. I have a number of other pieces I would like to start (or re-start) soon and my rotation will be thrown even more out of balance, but I guess I just declare myself a screamer for the time being and do whatever I fancy ;)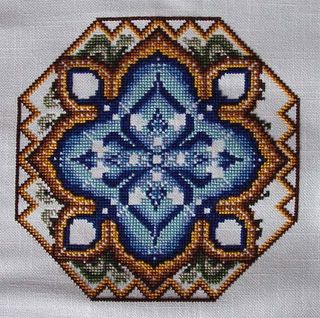 Watergarden